Timber Deck Sanding and Polishing in Wollongong
We understand that your deck is more than just an outdoor space – it's an extension of your living area, a place to relax, entertain, and create lasting memories with family and friends. That's why we are don't just provide indoor timber sanding and timber polishing, but we also specialise in outdoor timber deck restoration and oiling across the Wollongong area.

Wollongong summers can get hot. Your deck facing the sun, rain, and even foot traffic all day long. Over time, this exposure can lead to wear, fading, and a tired and damaged look to it. This is where we come in!

If your timber decking needs sanding, coating, refinishing, or maintenance, please contact One Stop Floor Sanding today. The process may take time but if you leave it up to our professionals, you will be sitting on your deck sipping pina coladas in no time! We have years of experience sanding and polishing timber decks in Wollongong.

02 4071 2421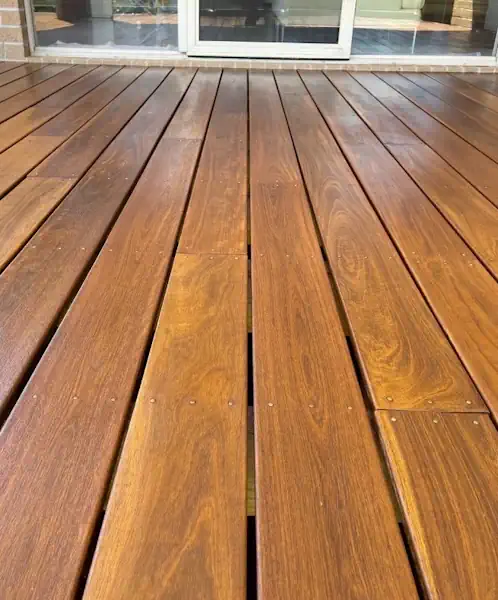 Your Trusted Wooden Deck Sanding and Oiling Service in Wollongong
At One Stop Floor Sanding, we recognise the unique needs of each deck. No one deck is the same! Our skilled professionals are equipped with the knowledge and sanding tools to assess the condition of your timber decking accurately.

Whether your deck requires a thorough sanding to remove imperfections, a revitalising deck polish for a sleek finish, a fresh coat of deck oil, or a combination of all, our tailored approach ensures exceptional results that align with your vision.

We restore, sand, and refinish decks, verandahs, pool areas, outdoor entertainment areas, and any other outdoor timber flooring surface. Whether its residential or commercial deck sanding, our team are the one's for the job!

02 4071 2421
Signs to Look for in Your Timber Decking That Indicate You Need Deck Sanding in Wollongong
Did you know that decks endure a yearly average of 600 hours of sunlight exposure? This constant barrage of UV rays, along with rain and foot traffic, can lead to wear, fading, and gradual degradation of your timber decking.. Recognising these signs is crucial to maintaining the beauty, safety, and longevity of your wooden composite decking.

A small problem may become more complex if not dealt with as soon as possible, which could end up proving to be costly. Is your timber showing signs of wear and damage? It might be time for professional hardwood deck sanding if you notice:

Splintering and rough surfaces. Prolonged exposure to UV rays and constant foot traffic can lead to the development of unsightly splintering and rough patches. These not only detract from your deck's appearance but can also compromise safety.
Fading and discolouration. Sunlight's potent UV rays take a toll on your deck's protective finishes, causing them to erode over time. This results in fading and discoloration, leaving your deck susceptible to moisture intrusion and eventual decay.
Look out for uneven surfaces and warping. Moisture-related issues, often stemming from inconsistent sealing, can cause your timber to absorb water unevenly. As a result, the wood warps and creates uneven surfaces, potentially leading to tripping hazards.
These signs aren't just cosmetic... they are indicative of deeper structural and safety concerns in the timber decking. Trust the experts at One Stop Floor Sanding to identify these signs and implement effective solutions that extend the life of your wooden deck while ensuring your outdoor space remains safe and good-looking.

02 4071 2421
What's the Benefits of Regular Deck Restoration & Refinishing
If you're wondering, what exactly is in it for me? What are the benefits of deck restoration and is it worth the cost? Maintaining the structural integrity of your timber deck goes beyond just aesthetics, it's a strategic investment into your home. Some of the best veranda sanding benefits our customers love are:

Preservation for Years to Come: Regular hardwood deck maintenance can add years of enjoyment, sparing you from premature replacements and letting you savor your deck's beauty well into the future.
Protection from the sun: Our sanding and deck oiling process not only revitalises your deck but also protects it from the elements. By utilising premium decking oil with UV protection, we ensure that your deck maintains its vibrancy and strength for years to come.
Saving dollars: Small investments today can lead to substantial savings tomorrow. By addressing minor issues promptly, you're effectively warding off the need for extensive repairs or, worse yet, a complete deck overhaul.
Look out for uneven surfaces and warping. The process goes beyond surface-level enhancements, unveiling the natural beauty of your timber. Your timber decking will be looking vibrant once again.
Elevated Property Value: When it comes to real estate, first impressions matter. A well-cared-for deck contributes significantly to your property's curb appeal. A study by the National Association of Realtors reveals that a visually appealing deck can yield up to 80% return on investment, making it a compelling asset when the time comes to sell.
By choosing to be proactive with deck refinishing and maintenance, you're making an investment that goes above just appearances. It's about safeguarding your comfort, safety, and property value. Your outdoor oasis is ready to shine, and we're here to make it happen.

02 4071 2421
The Process for Deck Restoration in Wollongong
Step 1: Assessment & Cleaning
We begin by assessing your deck's condition, identifying areas of wear and damage. We use a water or oil based deck stripper to remove the existing timber staining and then clean the deck.

Step 2: Deck Sanding
Utilising specialised techniques and timber belt sanders, we carefully sand the deck's wooden surface, removing imperfections and old finishes. This reveals the natural beauty of the timber.

Step 3: Oiling & Staining
We apply premium deck oil with UV protection, safeguarding your deck against the elements. Quality timber deck staining ensures lasting beauty and protection.

Choose the Best Deck Sanding Wollongong
Do you need deck repair in Wollongong?

Getting your timber deck sanded, restored, and recoated by our professionals is one of the best things you can do to your deck. It's not always easy knowing how much it will cost.

If you find yourself asking "what is the cost of deck sanding in Wollongong", then you should reach out to our experts now. We can give you a free quote on your veranda sanding and restoration job and always come with affordable rates.

At One Stop Floor Sanding, we're more than a service provider – we're your partners in preserving the elegance, safety, and value of your timber deck.

Our team of experts specialises in transforming worn verandas into stunning outdoor spaces that stand the test of time. Give our team a call today!

02 4071 2421
Need Timber Deck Restoration in Wollongong?
CALL US NOW FOR A FREE QUOTE
02 4071 2421