Commercial Timber Floor Sanding and Polishing in Wollongong
When it comes to commercial timber flooring, there is no better team in the Wollongong area that has more expertise than us at One Stop Floor Sanding. With the experience of hundreds of commercial wooden floor sanding and polishing projects, we have the know-how to get any job done, no matter how large your floor space is.

Working with a number of high-end commercial and corporate clients, we know the ins and outs of dealing with businesses. We undertake our hardwood floor sanding process around your schedule and always aim for minimal downtime and disruption to regular work hours. It's our aim to be in and out as quickly as possible, whilst still ensuring we take the right amount of time to get the job done properly.

If you are looking for a commercial floor sanding company in Wollongong that can get the job done right, then you've come to the right place. The evidence is in our hundreds of 5 star testimonials over the years of happy customers and beautiful looking restored timber floors! We've had experience working with a number of commercial industries across Wollongong, some of which include:

Basketball court floor sanding and polishing
Church hall floor sanding and polishing
Gym floor sanding and polishing
Wedding hall floor sanding
Sports Centre floor polishing
Office floor sanding and polishing
Warehouse floor sanding and polishing
Wollongong Central Shopping Centre
Stockland Shellharbour
Stockland Shellharbour
School Hall Floor Sanding
Restaurant floor restoration
02 4071 2421
Best Commercial Timber Floor Restoration & Refinishing in Wollongong
To ensure your business looks pristine and gives the right impressions on customers, the flooring MUST be pristine. If your timber is worn out, old, or damaged, then what is that telling your customers when they walk through your doors? Unfortunately, as beautiful as wooden floors are, they can eventually grow worse for wear due to the constant barrage of foot traffic that it's subjected to daily.

This is where we come in! All it takes is some of our magic and your hardwood floors are restored back to their former glory. They could look better than they ever have after we're done with them.

With our wooden floor restoration services in Wollongong, we'll completely eradicate any scratches in the timber, rejuvenate it with a timber oil of your choice, and ensure a quality finish to your timber floors that will look good for years to come. We restore timber flooring, bamboo flooring, parquetry flooring, and more!

Whether you're a sports centre owner and are looking for basketball court restoration, an office manager needing office floor sanding, or in the industry of weddings and require hall floor polishing, we can get the job done.

Our experts have the equipment, machinery, and the tools to get the job done right. Especially when dealing with large commercial flooring, it can be hard to pull off an even finish to the timber. With our team, this isn't an issue at all. We know exactly how to approach your commercial floor sanding job to leave a flawless finish. Give our team a call today for a free quote!

02 4071 2421
Benefits of Hiring Professionals for Your Commercial Floor Refinishing in Wollongong
There are many benefits when it comes to hiring a professional for your commercial floor polishing job. You may be asking yourself "Is it worth sanding your own floors?", which is a fair enough question. DIY could be the cheaper option upfront, however you run extreme risks of causing irreversible damage to your flooring, costing you MUCH more than you would've spent with a professional.

Here are some of the benefits of choosing a professional floor restoration company:

You don't risk ruining and damaging the timber floors by attempting the process yourself. This damage could cost you the entire flooring, forcing you to rip and replace it entirely... very expensive! Hire a pro so this doesn't happen.
Amateurs in the trade struggle to leave an even finish across the entire hardwood flooring, especially in large commercial floor spaces. Professional floor sanders know how to treat your timber perfectly to leave an even finish.
Your commercial hardwood floor finishing job gets done right the first time, so you don't have to spend the same money twice. Our pros come in and do the job right, every single time.
When you choose One Stop Floor Sanding, you are choosing to go with excellence. Put your trust in Professional Floors Sanding in Wollongong for your upcoming commercial floor restoration job. Give our team a call or enquire online today for a free quote!

02 4071 2421
The Process for Commercial Wooden Floor Restoration in Wollongong
Step 1: Assessment
We evaluate your commercial flooring's condition and identify areas of damage that need attention. It's at this point we run through the array of staining options available and help you pick a timber polish finish that suits you.

Step 2: Floor Sanding
Using specialised equipment such as a random-orbital sander, we strip back and remove old finishes, scratches, and damages in the wood to unveil its natural character. This is a delicate process and our expert floor sanders are careful to not damage any of it's surroundings.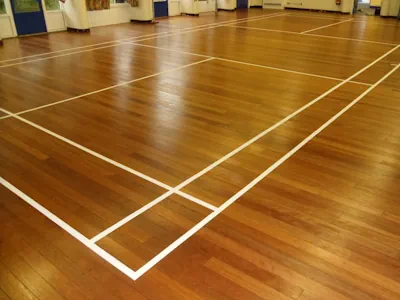 Step 3: Stair Polishing & Staining
After applying a wood conditioner to absorb the stain and varnish, we polish your floors to your desired look. We then apply advanced two-tone component waterborne finishes and durable commercial-grade polyurethanes as a protective barrier.

Need Commercial floor sanding in Wollongong?
CALL US NOW FOR A FREE QUOTE
02 4071 2421